Thesis Editing Service
Reliable l Hassle-free l Expert Guided
Struggling to draft your thesis with a solid logical foundation and clarity?
Our team of experts is standing by to help you succeed!
Meet your Ph.D. & Master's expert thesis editors
We find the best thesis editing expert that matches your needs based on your field of study, choice of service, and preferences. The expert will work on your thesis and send you the edited thesis ready for submission. If our expert has queries or suggestions, they will let you know so you can implement them before submission.
Our Services
You have put in years of hard work toward your Master's or Ph.D.; the last thing you need is to have your work critiqued due to imperfect language and structure. Our editing experts help you eliminate grammar and language mistakes and enhance the overall presentation of your thesis. 

Choose either Thesis Essentials or Thesis Pro service based on your unique requirements.
Make your thesis error-free and submission-ready
Get a thorough copy editing and proofreading service that checks and corrects grammatical and vocabulary errors, improves punctuation and technical terms, and sharpens your thesis writing. Your editor will also provide a summary report and a rate card on your writing style.
Includes
Strengthen your thesis with language enhancements
Get smooth transitions, crisp sentences, precise verbiage, and clarity refinements. Your editing experts will also provide an analysis of the strengths and weaknesses in your writing. Get personalized feedback to improve your thesis narrative.
Includes
Everything in

+
100% Reassurance of Quality
Enago's Thesis Editing service assures you that your thesis will not be rejected on grounds of language, grammar, style, and consistency.
High quality editors
24x7 customer support
Error free theses
Free Q&A service
Ready with your thesis?
Get started with a free trial today!
Thesis Editing
Our experienced editors will ensure proper grammar, punctuation, spelling, and academic style while improving clarity, concision, and transitions in your writing. Your edited thesis/dissertation will have good readability and a proper academic tone, allowing your examiners to assess your research and studies easily.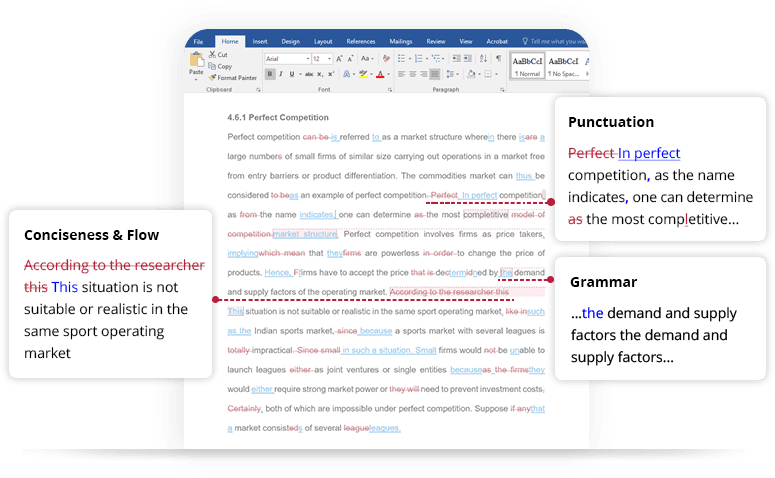 Thesis Formatting
We will format your thesis according to your submission guidelines or designated style guide. This includes template application and implementation of page layout, heading, and numbering styles. We can also format your end-list references and check your cross-referencing.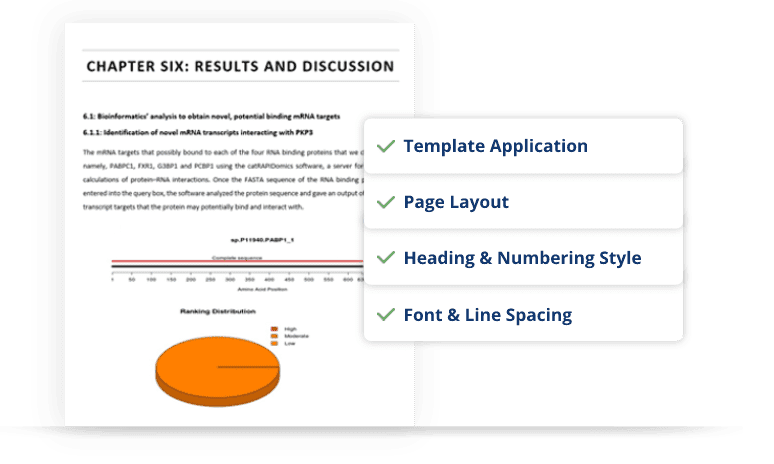 Expert Comments
Our editors will insert comments with suggestions for enhancements and request clarifications at appropriate instances. They will also assess your strengths and weaknesses in the Thesis Rating Card and Thesis Expert Summary to help you sharpen your academic writing skills.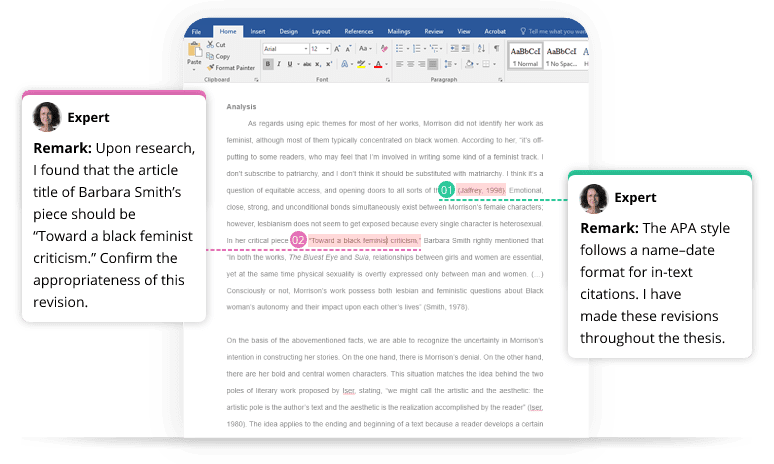 Our Commitment to Clients
We provide full support to ensure that you don't miss a beat when submitting your thesis!
Guaranteed
Timely Delivery
24/7 Email &
Chat Support
Data Security With
256-Bit SSL Encryption
Frequently Asked Questions
---
Should I choose Thesis Pro or Thesis Essentials?
+
Thesis Essentials provides a thorough grammar and language revision, so you won't have to worry about basic language mistakes. It is suitable for students who are confident in their writing and/or under close guidance from their research advisers. Thesis Pro gives you more holistic editing that not only ensures your manuscript is free of error but also enhances its content presentation.
How is Thesis Editing different from other Enago editing services?
+
Enago offers 3 academic editing services- Top Impact Scientific Editing, Substantive Editing, and Copy Editing- targeting authors who wish to publish their research in international journals. Two to three editors edit each manuscript in the same research field for precise adherence to academic publishing conventions. These services also provide additional support for journal submission, including revision against peer reviewers' comments.
Will your experts fix issues in the content and structure of my thesis?
+
Our thesis services may be equated to proofreading (Thesis Essentials) and copy editing (Thesis Pro). Neither of these services offers content edits or structural reviews. However, our experts will point out the issues they notice in Thesis Pro.
Can you format my thesis as per the required referencing style? Are your editors familiar with citation styles?
+
Even though there are many distinct citation/reference formats, they all generally adhere to one of three basic principles: parenthetical, numerical, or note citations. Our thesis editors are well-versed with your institution's regulations and have over 10 years of experience in thesis editing & formatting.
Is there a thesis editing discount? I am a student.
+
We offer a flat 15% off on our thesis editing services regardless of the word count of your paper since we understand that students are on a tight budget.